Home | Info | Jet Ski Rentals | Kayaks | Paddle Boats | Hermit Crabs | Airbrush Tattoos | Spider Mountain | The Big Chair | Purple Ape Grill | Merchandise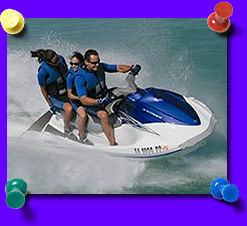 Jet Ski Rentals
$100 for a half hour (Bay side only)
$175 for an hour (Ocean or Bay side)
We have brand new Yamaha 110 HP three-seaters!
Call (401) 596-9518
Must be 18 years old with valid drivers license and major credit card. Passengers can be any age.
A $500.00 security deposit is required; it is refundable upon return of the jet ski.
We supply with instructions, life jackets and gas.
We do not take reservations over the phone – it is first come, first serve!
We recommend that, if you want to ride, you stop by in the morning that day and set up a time.
Copyright 2006-2019 The Purple Ape, All proprietary rights reserved.