Home | Info | Jet Ski Rentals | Kayaks | Paddle Boats | Hermit Crabs | Airbrush Tattoos | Spider Mountain | The Big Chair | Purple Ape Grill | Merchandise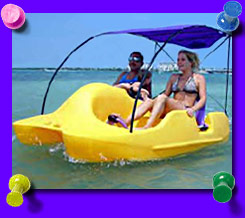 Paddle Boat rentals
We carry four-seaters!
Two-seater Paddle Boat
$20 for one hour
Four-seater Paddle Boat
$30 for one hour
Call (401) 596-6169
Requires photo ID or $20.00 cash or credit deposit.
Enjoy all the nooks of three-mile long Winnabaug Bay;
filled with wild life, birds and fish – or find some of the hot claming spots!

Copyright 2006-2013 The Purple Ape, All proprietary rights reserved.